Obama to Hispanics: Don't forget who is standing with you, who stands against you
By Darlene Superville, AP
Wednesday, September 15, 2010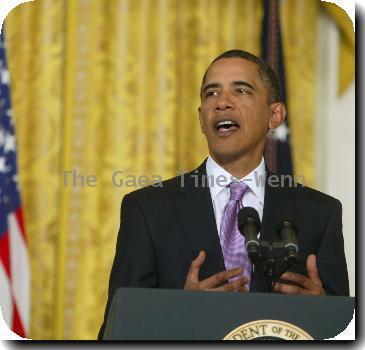 more images
Obama to Latinos: don't forget who stands with you
WASHINGTON — President Barack Obama appealed to Hispanics on Wednesday to support Democrats in the November elections despite his failed promise to pass an immigration overhaul.
"Don't forget who is standing with you," the president said as he blamed Republicans for standing in the way of progress.
Less than two month before midterm elections that could prove disastrous for Democrats who run Congress, Obama acknowledged the disappointment among Latinos over the immigration issue and pledged anew to keep pushing for a comprehensive overhaul of the nation's immigration laws.
"You have every right to keep the heat on me and the Democrats, and I hope you do," Obama said at an awards dinner sponsored by the Congressional Hispanic Caucus Institute. "But don't forget who is standing with you, and who is standing against you. Don't ever believe that this election coming up doesn't matter. "
Obama also promised to help win passage of a bill, known as the DREAM Act, to help young people in the country illegally to become legal U.S. residents by attending school or serving in the military.