Natalee Holloway Missing Case Lingers On
By Avik, Gaea News Network
Friday, December 3, 2010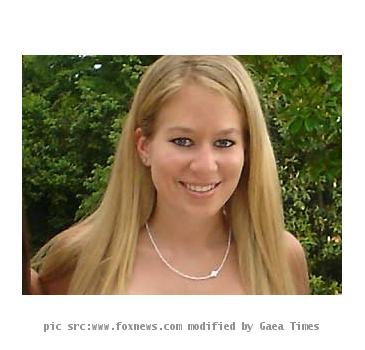 more images
ARUBA (GaeaTimes.com) — Reportedly the jawbone that was found on a beach in Aruba this month is human, but according to the prosecutors it doesn't belong to long-missing Alabama teenager Natalee Holloway.
Those of you unaware of the case must know, Holloway was on an outing with about 100 classmates in celebration of their graduation from Mountain Brook High School in suburban Birmingham, Alabama, when she disappeared. Allegedly, she has last been spotted in the wee hours of May 30, 2005, leaving an Oranjestad nightclub with Joran van der Sloot and two other men.
Aruba Solicitor General Taco Stein told reporters,
Right there and then, it was obvious it wasn't Natalee. It's very sad for the parents to not have closure, They must rest assured we are working hard to solve the case. Whether that will be in the near future, I cannot tell.
The bone was allegedly discovered by an American tourist near the Phoenix Hotel, which happens to be a resort on the western side of the island, Aruban prosecutor Peter Blanken said.
Dave Holloway, Natalee's father thanked saying,
We remain hopeful that some day we will find the answer to the whereabouts of our daughter, Natalee Holloway, Again, we want to thank everyone for their support in our efforts to find justice. We ask that you continue to remember Natalee in your thoughts and prayers.
Attorney John Q. Kelly stated a few things about Beth Holloway. Natalee's mother,
Beth accepts the forensic conclusions, is emotionally exhausted from the inexplicably long wait, and deeply disappointed in the time and manner in which she learned of the results.